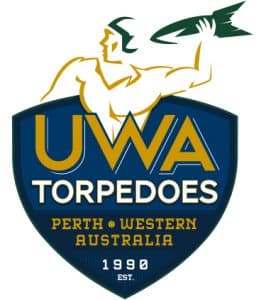 About the UWA Torpedoes
Established in 1990 the UWA Torpedoes is the AWL (Australian Water Polo League) franchise of the very successful parent UWA Water Polo Club. The UWA Torpedoes Men's team took the National title in the 2015/16 AWL season.
In 2010, the club enlisted a new coach, triple Olympian Andrei Kovalenko to our men's team resulting in a huge improvement in the teams national standing culminating in the 2015/16 Men's championship. Many of our male players have gained selection in national squads and have been awarded scholarships with the Western Australian Institute of Sport (WAIS).
The Women's team has appointed a new coach in 2021 with the well-credentialed Damian Kelly, who has coached at both state and national level with great success. Damian's focus is developing the current team with an expectation of making the medal playoffs this coming season.
What is the AWL?
The Australian Waterpolo League (AWL) is Australia's premier domestic water polo competition – the water polo equivalent of the AFL!
  The AWL has 10 representative clubs from across Australia, each club has one team for each gender. The AWL begun as the National Water Polo Men's League back in 1990, with the women's league introduced in 2004.  In 2015 WPA introduced a licensing structure to the league to formalise the teams' involvement, meaning all 10 clubs involved now hold a license to compete each year.  In 2017, the name was changed from 'National Water Polo League' to 'Australian Waterpolo League'.
       

UWA TORPEDOES MEN'S TEAM 2022



Head Coach:  Andrei Kovalenko
Manager: Steven Kyriakou

Thomas Freeman
George Ford
Lachlan Emanuel
Philip Slater
Nicholas Hughes
Julian Kyriakou
Tom Sangster
Andrew Ford
Sam Rowbottam
Byron Kelly
Lewis Putt
Riley Maurich
Riley Childs
Charlie Emmanuel
Andrew Barber
Campbell McAullay
Parsa Vahdani
Tyler Fazio
Griffin Woodhouse
Owen Lilleyman

UWA TORPEDOES WOMEN'S TEAM 2022 
Head Coach: Damian Kelly
Manager: Fia Rigo
Claire Durston
Rebecca Gibb
Rebecca Liddle
Alice Johnson
Cathryn Earl
Dayna O'Leary
Claire Whitaker
Pippa Pedley
Madi Rigo
Gabrielle Sayer
Isabella Sayer
Glenda Morgan
Allegra Childs
Emma Putt
Amelia Taboni
Katie Morris
Sydney Poor
Carina Harache
Isla Mulligan
Antonio Poor
2022 Australian Waterpolo League
Due to the delay in the WA border opening the two AWL clubs Fremantle and UWA Torpedoes have had their preliminary season restructured into a new five-game series in WA. At least one of the games will be played in the regional district of Geraldton. Following this competition both Western Australian AWL teams will travel to Sydney is early April to take part in the AWL finals with a chance to take out the Australian Water Polo League premiership.